A tananyagról ❖ About the resource
Welcome to our grammar-based skills development lesson! 😊
In this package of resources we'll focus on the present tense, indefinite conjugation. By going through the materials in this package, you'll be able to learn about the present tense, indefinite conjugation step-by-step and solve loads of grammar tasks, and you'll also get a chance to improve your listening, reading and writing skills while focusing on the present tense, indefinite conjugation in context. Let's take a look at the structure of the lesson with some samples.

First you can listen to and read 6 introductory dialogues with interactive text. The difficult words are highlighted: roll your mouse over the words in blue to see their translation. All examples for present tense, indefinite conjugation are underlined to draw your focus to the grammar. Click on the audio button to listen to the dialogue, and click on the information button to see the full English translation of the dialogue.

Once you have listened to and read all the dialogues and saw the grammar in context, we'll explain you the grammar rules step by step. We'll take loads of examples from the dialogues to show you the rules in context. For example, in the 3rd chapter of the grammar explanation unit, you'll see the following examples and explanations:
Chapter 3. Verbs ending in -s/-sz/-z
Miért a piacon veszel epret? = Why are you buying strawberries at the market? (Dialogue #1)
Délután lekvárt főzök. = I'm cooking jam in the afternoon. (Dialogue #1)
Mit főzöl? = What are you cooking? (Dialogue #1)
Az én feleségem nem főz lekvárt! = My wife doesn't cook jam! (Dialogue #1)
Biztos olvasnak. = They are reading for sure. (Dialogue #5)
Csak veszünk egy pizzát a sarkon. = We'll just buy a pizza at the corner. (Dialogue #6)
Keresünk egy másik parkolóhelyet. = We'll look for another space to park. (Dialogue #6)
While in most persons the conjugation of the verbs ending in s, sz and z is the same as the conjugation of regular verbs, verbs ending in s, sz and z are conjugated differently in the second person singular (te) form, to ease pronunciation.
Compare:
tanul

➨

(te) tanulsz, siet

➨ (te) sietsz, ül ➨ (te) ülsz
mos ➨ (te) mosol, vesz ➨ (te) veszel, főz ➨ (te) főzöl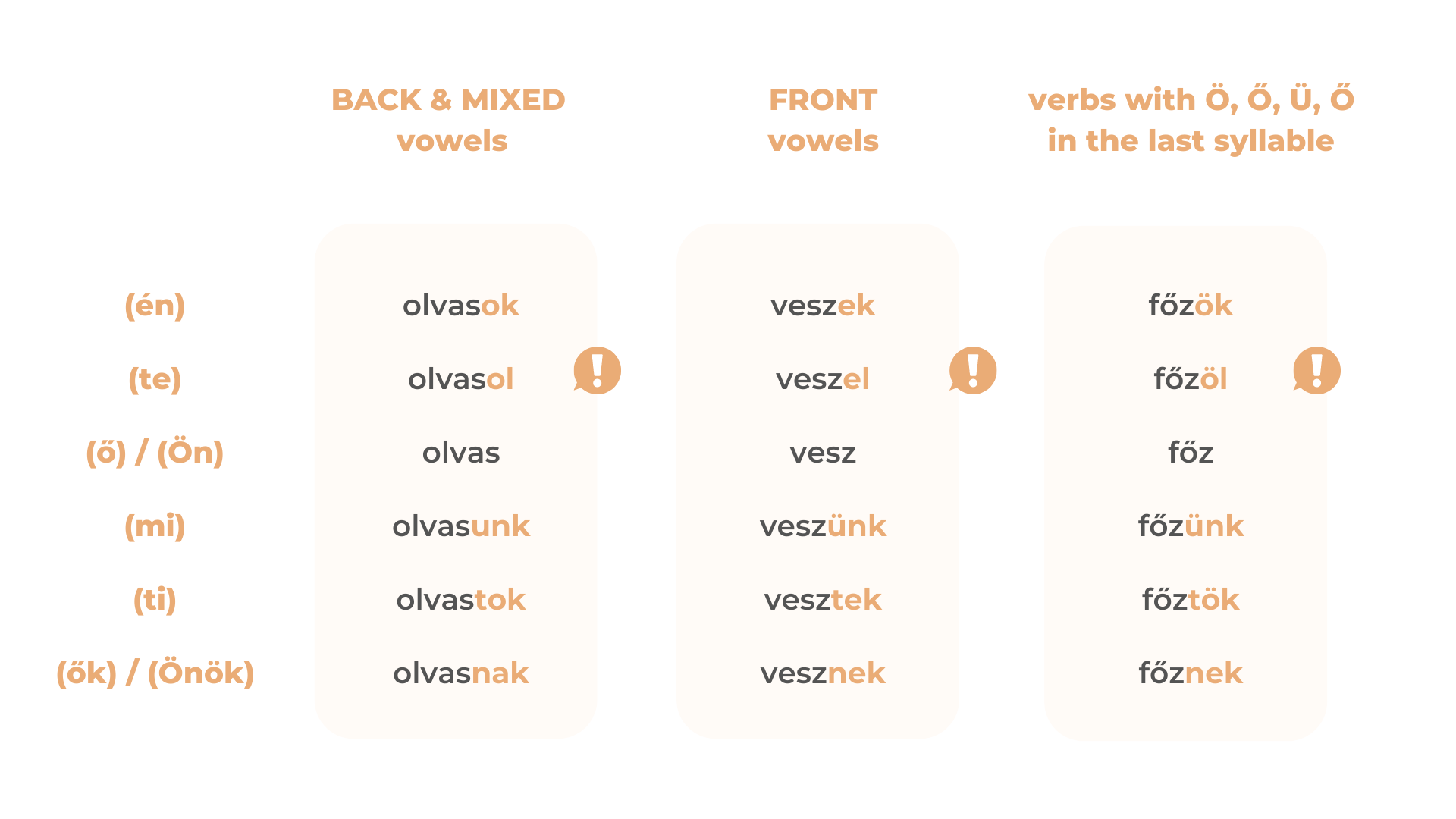 Instead of the -sz suffix, verb ending in -s, -sz and -z get the -ol, -el, -öl suffixes in the second person singular, following the rules of vowel harmony.

After each small step of grammar explanation, you can practice with some simple drill tasks. You can find at least 3 interactive task in each chapter. Take a look at exercise 2 from Chapter 3:
2.feladat: Írd be a hiányzó végződéseket! Ha nem hiányzik semmi, írj egy kötőjelet ("-"). ❖ Fill in the correct endings. If nothing is missing, write a dash ("-").

Once we have explained all the rules and had plenty of opportunity to practice them, we'll work on skills development and bring grammar back to context. You can find 2 sets of skills development tasks, with 8-10 tasks in each. In the first set of tasks, you can read about Juli néni, an old lady who is living a very healthy life.
Here's a short extract from the text, with word list and comprehension-check questions:
2.feladat: Olvasd el a szöveget Juliról! A kiemelt szavak jelentését megtalálod a szöveg alatt. ❖ Read the text about Juli. You can find the meaning of the highlighted words below the text.
Juli Budapest mellett lakik. Mindennap sétál az erdőben, biciklizik és jógázik. Gyakran találkozik barátokkal; kávéznak és beszélgetnek. Ez abszolút normális, igaz? De Juli 90 éves!
Juli néni szerint a napi rutin nagyon fontos. Ő minden reggel pontban 6 órakor kel. Tornázik egy kicsit az ágy mellett, és iszik egy nagy pohár vizet. Utána reggelit készít: minden reggel egy tányér zabkását eszik gyümölcsökkel. Teát iszik, cukor nélkül. Reggeli közben újságot vagy könyvet olvas.
Szólista / Word list:
erdő = forest
igaz? = true? right?
napi rutin = daily routine
fontos = important
pontban = exactly
készít = to prepare
zabkása = porridge
valami közben = during something
újság = newspaper
Once you have read the text, learnt the new words and solved the comprehension-check tasks, we'll focus on grammar in context again. Become Juli and tell the story from your point of view to practice the fist person singular form of the verbs, complete an interview with Juli to practice asking formal questions, and then see what you have in common with Juli while practicing the first and second person singular forms! Finally, focus on writing skills and write about your daily routine.
In the second set of skills development tasks, you can listen to 4 people talking about their typical weekend. First you'll need to guess what their profession is, and after listening to all four audios, you'll need to solve a comprehension-check task. Here's Péter's story for example:
After solving the comprehension-check tasks, we'll focus on grammar again. First you'll need to complete the texts with the correct form of the verbs. For example:
Then you'll need to complete and write interviews with these four people. And at the end, you'll need to write about your weekend.
We hope you'll enjoy learning from our grammar-based skills development package! Let us know if you have any questions.
Barbi & Eszter
Complete and Continue